Chevrolet Engine Performance Parts:
There is no shortage of performance upgrade options for the Chevy small block internal combustion engine in the 1982 to 1992 Camaro. The performance engine parts covered here are for the General Motors Chevrolet four stroke cycle engine. The four engine cycles are:
Intake: a fuel-air mixture is drawn in as the piston moves downward
Compression: the fuel-air mixture is compressed with the valves closed
Combustion: the spark plug is fed a burst of high voltage electricity to cause a spark and ignite the compressed fuel-air mixture. This pushes the piston down generating the power of the engine.
Exhaust: The burnt fuel is removed from the system as the piston once again moves up
Engine performance is improved by stuffing as much combustible air-fuel mixture into the engine as possible and scavenging it through the exhaust and supporting this as fast as physics will allow. This performance story begins with the intake of air which should be cool. Cool air from outside the engine compartment is more dense than hot air from around the engine compartment. The air must then be mixed with fuel in an optimum ratio for good mileage at lower RPM and high power at peak RPM. This is the job of the carburetor or electronic fuel injection. Superchargers and turbochargers can be used to stuff more of the fuel-air mixture into the engine. The fuel-air mixture passes along the intake manifold runner to the cylinder heads which carries this fuel-air mixture to the intake valve which opens by a precisely timed mechanical system made of of a camshaft, lifters, push-rods, rocker arms and ultimately the intake valve. Each of these components can be had as a performance component designed to allow more of the fuel-air mixture into the engine. The combustion cycle will impose a significant force on the piston and crankshaft. Performance pistons can be designed for optimum burning patterns, higher compression ratios and outright strength to support the additional horsepower as well as low weight to reduce reciprocating loads. The exhaust is allowed to pass out of the engine through the exhaust valve which is actuated by the very same system which actuates the intake valve. The exhaust cycle is optimized to allow as much of the exhaust to escape as easily as possible
The performance parts and manufacturers covered here seek to optimize all four cycles of the gasoline internal combustion engine and provide the strength so that the system integrity is maintained while delivering this increase in horsepower.
---
After Market Performance Part Manufacturers:
Performance Marketplace - Racing and High Performance directory
Mr Gasket: ACCEL: Ignition wires, coils, rev limiters, distributors, filters, crank triggers, spark plugs, alternators, voltage regulators, battery isolators, cables, starters, and fuel injection systems, TPI and components.
(248)380-2780
ARP (Automotive Racing Products): Automotive engine fasteners/bolts, stud kits
(805)278-7223, (800)826-3045, 531 Spectrum Circle, Oxnard CA 93030
BG: Bary Grant Fuel Systems - carbs, plumbing, parts
Billet Specialties - Billet Aluminum brackets, pulleys, valve covers, air cleaners, components. Under hood and interior billet dress-up
BJH Dynamics - Harmonic dampers
Brodix - Aluminum heads, blocks, intake manifolds, carb adapters/spacers, valves, stud girdles, valve covers, reverse cooling kits, ...
(479)394-1996, 301 Maple Ave., Mena AR 71953
Brzezinski Racing Products - Cast iron cylinder heads, intake manifolds, carb adapters/spacers, intake baffles, flow bench equipment, exhaust manifolds, ...
(414)246-8577, N50 W23001 Betker Dr., Pewaukee WI 53072
Canton - Accusump accumulators and pre-oilers (Reduces engine wear which occurs during start-up), oil pressure stabilizers (hydraulic dampening and maintains reserve for when pick-up goes dry under high cornering G's, high RPM or other anomalies), turbo oilers (maintains oil pressure after engine is turned off and turbo is still spinning), heavy duty high flow oil filters (with no bypass). Dry sump systems, oil pans, catch and expansion tanks, oil pumps, oil coolers, engine oil system components, pulleys, ...
14 Commerce Drive, North Branford CT 06471 (203)484-4900
CFE Racing - billet small block and big block engine blocks, billet manifolds
StreetPerformance.com: Childs and Albert - cranks, rods, pistons, rings, ...
ClassicTube.com - fuel lines, braided hoses, ...
Cloyes - Timing chains, gears (billet steel), gear drives (adjustable cam timing)
(501)963-2105, Paris Arkansas 72855
Competition Cams - cam shafts, lifters, shaft mounted rockers, stud girdles, pushrods, guides, connecting rods, valve covers, timing chain covers, drive gears, valve train components, tools and gauges
(800)999-0853, (901)795-2400, 3406 Democrat Rd., Memphis TN 38118
Crane Cams - cam shafts, lifters, rockers, valve train components
(305)457-8888, 100 Northwest Ninth Terrace, Hallandale FL 33009
Crower Cams - cam shafts, valve train components, stud girdles, rockers, retainers, connecting rods, crankshafts, multi-disk clutches
(619)422-1191, 3333 Main St., Chula Vista CA 91911-5899
CV Products: Race engine components
CVF Racing: serpentine system for a supercharged Chevy LS
Dana/Clevite Engine Parts: Cams, lifters, bearings, ...
Dart Heads - Aluminum heads (oval and rectangular port), blocks, intake manifolds, blower manifolds, valve covers. Stock and racing designs.
(810)362-1188, 353 Oliver St., Troy MI 48084
Donovan - Aluminum Cylinder heads, blocks, components, gear drives. Racing, street and marine.
(310)320-3772, 2305 Border Ave., Torrance CA 90501
Eagle Specialty Products - Connecting rods
Erl Performance - 500cid LS2 short block.
Edelbrock: Race and smog legal aluminum intake manifolds, aluminum heads, cams, QJet carbs, EFI (Electronic Fuel Injection), ECM (Electronic Control Module), air fuel ration monitors, fuel pumps, fuel filters, smog legal matched kits (EFI, heads, headers), Nitrous, valve covers, aluminum water pumps (polished), data acquisition systems, headers (stainless and chrome), ...
Federal Mogul: (Felpro,Sealed Power, Speed Pro piston rings, Sterling pistons, Carter) Bearings, gaskets, ... etc

Felpro: Gaskets - copper core, steel core, lock wire
Carter: carbs, fuel pumps, pressure regulators, water pumps

FilterMag.com - Grips to outside of filter to trap metal contaminants.
Fluidampr: Harmonic balancers. Non rubber elastomer.
(716)937-3603, 11980 Walden Ave., Alden NY 14004-9790
TD Performance: oil pans, oil pick-ups, dry sump systems, oil tanks, blow-by testers, harmonic balancers.
(562)921-0404, 1501 Industrial Way N., Toms River NJ 08755
Granatelli Motorsports - Mass airflow sensors for LSx series small block.
Holley: Carburetors, etc
6061.com: Intake Elbows: re-routes or lowers induction path
JE Pistons - forged pistons
(714)898-9763, Huntington Beach CA 92649
Jones Racing Products - Belt cam drives, cog tooth belt drives, serpentine pulleys, blower drives, power steering belt drives, engine oiling belt drives, ...
(215)847-2028, Route 611 and Annawanda Road, Ottsville PA 18942
K & N - Performance Air Filters, air-fuel mixture monitor gauges (gas, alcohol, propane. Feeds from Oxygen sensor)
[Holley] Lunati Cams - cams, valve train components, connecting rods, pistons, crankshafts.

Lunati - Cams, valve train components, pistons, crankshafts, connecting rods
(901)365-0950, Memphis TN 38181-0021

Manley: Valves, valve guides, push rods, cams, cam drives, roller thrust button, oil pumps, pistons, connecting rods, 3 piece timing covers, rear oil seal carrier, stud girdles, rocker arm kits, tools, etc
(908)905-3366, 1960 Swarthmore Ave., Lakewood NJ 08701
March: Pulleys
Melling: Oil pumps, cams, lifters, valves, internal components
Milodon: Oil pumps, oil pans, oil pick-ups, baffles, windage trays, remote filter kits, cam gear drives and covers, valve covers, stud kits, valve covers, water filler necks (bolt to block), main bearing caps, internal components
(818)407-1211, 20716 Plummer St., Chatsworth CA 91311
Mr Gasket - Parent corporation of Accel, Rodware, Ultra Seal (gaskets and fasteners), Daytona, Hays, Lakewood, Hurst, etc.
Moroso - dry sump systems, oil pans, oil pick-ups, pumps, windage trays, crank wipers, baffles, filters, oil accumulators (holds pressure for start), pilot bearings, baffles, coolers, plugs, transmission fluid pans, solid engine and transmission mounts, coolant level sensor, water pumps (electric and mechanical), brackets, valve covers, air filters, ignition wires (Blue Max), distributors, coils, hood pins, fasteners, brake line locks, front drag tires, tools, etc...
(203)453-6906, 80 Carter Dr., Guilford CT 06437-0570
Mr Gasket: Parent company of Accel, Hays, Erson Cams, Gspot, Hurst, Jacobs, Lakewood, Mallory
Paxton: Superchargers
PerformanceSST: Stainless Steel fittings
Probe Industries - LSx forged pistons
RamAirBox: Air intake/inlet systems.
ScootersPerformance.com: Carbon fiber valve covers - small block Chevy, LSx series, ...
Stef's: Oil tanks, oil pans, oil windage screens, dry sump pumps, dry sump tanks, oil pick-ups, crank case vacuum systems, valve covers, billet main bearing caps, rear seal adapter kits, etc
(908)367-8700, 699 Cross St., Lakewood NJ 08701
SLP - Camaro performance parts
Spectre - engine dress up, aluminum air filter housings and intakes
HotrodLane.cc: Street and Performance - Lots of polished billet aluminum brackets, covers, pulleys, etc
Stage 8 - locking bolts and fasteners
Swain Tech Coatings - Engine coatings: ceramic thermal barriers, dry film lubricants, oil shedding coatings, cylinder head and piston coatings.
Trick Titanium: titanium valve spring retainers, fasteners, valve stems, king pins, blower drive nose/hub, bell housings, distributor clamp, axles, rear differential housings, clutch forks, bolts, etc
(810)588-9430, 321 Elmwood, Troy MI 48083-2782
Weaver Brothers: Dry sump oil systems, oil pumps, pans, tanks, pulleys (water, alternator and dry sump pump)
1980 Boeing Way, Carson NV 89706 (775)833-7677
Holley: Weiand: Superchargers and intake manifolds
World Casting: Aluminum blocks, heads, components
(810)244-9822, 353 Oliver St., Troy MI 48084
(516)737-0450, 35 Trade Zone Drive, Ronkonkoma NY 11779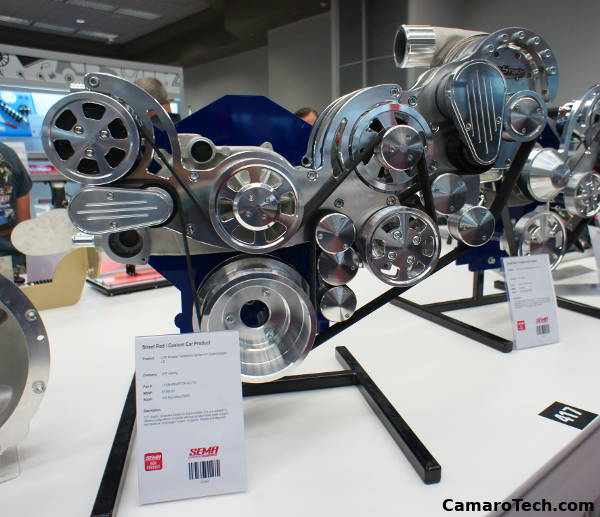 CVF Racing: serpentine system for a supercharged Chevy LS
---
Oil Systems:

FilterMag: Magnet which attaches to outside of oil filter
13260 W. Foxfire Dr. #7, Surprise AZ 85374 (623)556-4201
Magnetic drain plugs
Oil Coolers:

Oil and Lubricants:
---
Spark Plug Manufacturers:
---
Performance Computer Chips:
---
Super Charger Manufacturers:
Superchargers are a tried and proven technology to compress the intake fuel-air mixture to gain significant performance improvement. The more fuel-air mixture packed into the engine, the more power the engine is able to produce.
---
Turbo Charger Manufacturers:
Affectionately called Turbos, these systems utilize the pressurized exhaust gasses to drive a compressor to pack in more fuel-air mixture into the engine. One must remember that compression ratios have to be managed so that realistic operation can take place with the available gasoline octane ration.
---
Carburetors:
Intake CARB/EFI sizing: CFM
| CID | 2500 rpm | 3000 rpm | 3500 rpm | 4000 rpm | 4500 rpm | 5000 rpm | 5500 rpm | 6000 rpm | 6500 rpm |
| --- | --- | --- | --- | --- | --- | --- | --- | --- | --- |
| 231-239 | 165 | 195 | 230 | 260 | 295 | 325 | 360 | 390 | 425 |
| 252-265 | 180 | 215 | 255 | 290 | 325 | 360 | 400 | 435 | 470 |
| 267-283 | 200 | 240 | 280 | 320 | 360 | 400 | 440 | 475 | 520 |
| 289-307 | 220 | 260 | 305 | 350 | 390 | 435 | 475 | 520 | 565 |
| 318-340 | 235 | 280 | 330 | 375 | 425 | 470 | 520 | 565 | 610 |
| 348-360 | 255 | 305 | 355 | 405 | 455 | 505 | 560 | 610 | 660 |
| 383-390 | 270 | 325 | 380 | 435 | 490 | 545 | 600 | 650 | 705 |
| 396-400 | 290 | 350 | 405 | 460 | 520 | 580 | 635 | 695 | 750 |
| 409-429 | 310 | 370 | 430 | 490 | 555 | 615 | 675 | 740 | 800 |
| 440-460 | 325 | 390 | 455 | 520 | 585 | 650 | 715 | 780 | 845 |

Carburetor CFM required = (CID x max RPM) / 3456
Terms:
CID: Cubic Inch Displacement
CFM: Airflow in Cubic Feet per Minute at wide open throttle
---
TPI: Tuned Port Injection
TPI was introduced by GM in 1985 for the Third Generation Camaro.
Aftermarket TPI systems:
EFI (Basic Electronic Fuel Injection) and Throttle Bodies: These systems typically use carburetor like bodies with electronic fuel injection.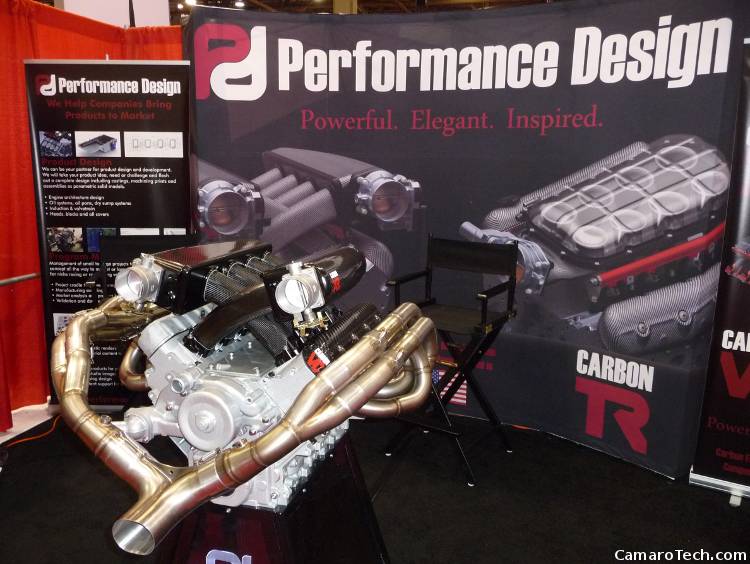 Performance Design Carbon XR: carbon fiber cross ram, dual plenum, dual throttle intake manifold (Chevy LS3/LS7 series engine). Available in 75mm and 90mm throttles.
Carbon fiber valve covers and other intake options available.
Links:
---
Performance Air Filters:
---
CamaroTech.com Engine Links:
---
Automotive Supplier Associations: