Chevy LS series engines: LS1, LS2, LS6, LS7, LSX
Late model Chevy small block engines for large displacement, low weight and high performance.
The theme here is big displacement in a small-block made of aluminum, re-engineered with modern technology and race driven design. These are the ultimate high performance engine swaps for the older generations of Camaros. They reduce weight and add horsepower. See
CamaroTech photos of a BMR Fabrication/Hawk front cross member
which has mounts for these engines.
LSX swap kits for the first, second and third generation Camaros are available from Spohn or BRP. The kit includes engine mounts (to permit this swap with the stock cross member) and a rear transmission cross member and mount. A compatible oil pan (Cadillac CTS-V) is also available if required. Note that if you use the stock crossmember with LS engine mounts you may have to notch the front of the crossmember to allow room for the rear of the A/C compressor. If using an LS compressor with the third gen condenser and dryer you will need the Hawks A/C line conversion kit. Hawks also has a wire harness, electrical connectors, transmission crosmember and headers for this swap. See below for more information on LS series engine swaps.
Thanks to Turnkey Engine Supply for letting us tour their facility and take photos. Turnkey specializes in the assembly of LS series engines using new GM and aftermarket components.
---
LS Gen III small-block: The Chevrolet LS1 and LS6 series engine was the third generation of Chevy small-blocks and was first introduced as the LS1 in the 1997 Corvette and was also used in the 1998-2002 Camaro Z28. Variants of this engine are available in displacements of 293 cid (4.8L), 325 cid (5.3L), 346 cid (5.7L) and 364 cid (6L). The LS6 was introduced in the 2001 Corvette Z06 option package.

LS Gen IV small-block: The LS2 series engine was introduced in the 2005 Corvette and the LS7 became available as an option for the 2006 Corvette. The LS2 and LS7 are known as the Gen IV small-block Chevy engines.
Comparison of engine specs:
| LS Series | Disp | HP / Torque | Cam Duration | Cam deg intake / exhaust | Cam lift | Valve dia in | Rocker Arm ration | Comp Ratio | Bore | Stroke |
| --- | --- | --- | --- | --- | --- | --- | --- | --- | --- | --- |
| LS1 | 346 cid/ 5.7L | 350/365 | 0.050 in | 200/203 | .500/.500 | 2.00/1.55 | 1.7 | 10.25:1 | 3.898 | 3.622 |
| LS6 | 346 cid/ 5.7L | 405/400 | 0.050 in | 204/211 | .525/.525 | 2.00/1.55 | 1.7 | 10.50:1 | 3.898 | 3.622 |
| LS2 | 364 cid/ 6.0L | 400 | 0.050 in | 200/203 | .500/.500 | 2.00/1.55 | 1.7 | 10.9:1 | 4.0 | 3.622 |
| LS7 | 427 cid/ 7.0L | 505/470 | 0.050 in | 211/230 | .591/.591 | 2.20/1.61 | 1.7 or 1.8:1 | 11.0:1 | 4.125 | 4.0 |
---
Historical note:
The Chevy Gen I small-block is the 1955-2004 Chevy engine design used in Gen 1, 2 and 3 Camaros. The Gen II "LT" engine was used in the 1992-1996 Corvette and 1993-1997 Camaro Z28.
---
LS Design features:
LS1 design features:
5.7 liter (350 cid) with a bore (3.898 in) and stroke (3.622 in)
Bore spacing: 4.4 in (111.8mm)
Aluminum block and heads. Entire engine assembly weighs48.85 kg. A cast iron version is used in Chevy trucks.
Six bold main bearing caps. Four vertical and two transverse from the side of the block.
Hydraulic roller cam.
One ignition coil per cylinder/spark plug.
Crank-triggered optical distributor.
Hypereutectic aluminum pistons and nodular iron crank.
Deep bore piston skirts which extended past the crank centerline.
Nodular iron crankshaft.
Stiff oil pan which added to the structural rigidity of the block.
Electronic fuel injection.
Reverse flow water cooling. This NASCAR developed technique for routing coolant, helps keep the heads cool and helps avoid pre-detonation.
LS6 bore: 3.898 in, stroke: 3.622 in
The LS6 used hollow-stem valves to keep them cooler and reduce the chance of pre-detonation due to a hot valve.
The LS2 (introduced in 2004) and LS7 (2006+ Corvette) are considered to be the Gen IV small-block design.
LS7 design features:
427 cid/7.0 L bore 4.125 in/104.8mm and stroke 4.00 in/101.6mm
The LS7 used titanium intake and hollow-stem sodium filled exhaust valves to keep them cooler and reduce the chance of pre-detonation due to a hot valve.
Forged steel crankshaft and main bearing caps.
Forged titanium connecting rods
Dry sump oil system.
LS Design Features:
Chevy Aluminum Block:
Steel sleeves:

The photo to the right is of the standard LS aluminum block with steel sleeves. Pictured below is the new cast iron LSX block with six head bolts per cylinder vs the standard four. Block fits 4 and 6 bolt circle heads.


Six bolt bearing caps:

Two vertical studs
Two vertical bolts
Two transverse bolts

This race proven design was adapted to the Chevy small-block to introduce greater rigidity and block stability. The previous generation of Chevy small-block often employed stud girdles in race motors to add stability and stiffness.

This is also a sneak peek at one of the first releases of the cast iron LSX blocks with more bore (4.25 in max) and stroke (4.5 in max) and six head bolts (vs 4) circling each cylinder for more clamping pressure. That's 480 cid from a small block!!

Oil pan which provides structural rigidity:

Generic all purpose unit on the left.
Corvette unit on the right.

LS fuel injection: LS1, LS2, LS7, Ram
LS ignition coils: one per cylinder

This allows more time for coil saturation as the coil must saturate once every two revolutions. With the older single coil design, the coil will provide current for discharge four times per revolution.

An optical crank trigger replaces the traditional distributer.
---
Turnkey Engine Supply:
LS engines can be assembled to order. They typically use GM blocks, heads and components as well as Mahle forged pistons, carbon fiber intakes and other improvements. They can also fit your engine with a transmission adapter plate to fit GM TH400, TH350 and 700R4 automatic transmissions. (note: current automatic tranny is the 4L65 4sp) The proper bell housing should mate the engine bolt pattern to manual transmissions. More radical supercharged and turbo charged assemblies are shown below.
LS engine installed with a Kenne Bell Supercharger pumping out 900 hp (approx):


LS engine installed with twin Garret turbochargers. Also pumping out about 900 hp, this unit has an intercooler mounted on top and employs their "coil covers" to protect the coils and give the top of the heads a more traditional look:


Turnkey assembles engines to order. This assembly is for an LS7 with Mahle forged pistons and stock GM titanium connecting rods.


Turnkey will provide the wire harness, fuse block, relays and engine controls computer as a simple solution. You are only responsible for five connections:

battery
fuel pump
ignition
tachometer
fan (two connections available for dual fan units)

Note the use of a carbon fiber intake manifold.


Turnkey tests all engines before delivery:

---
World Products LSX Warhawk Aluminum Blocks/Castings:
Warhawk product sheet
The new World Products LSX Aluminum Block and Heads:

World Products LSX Aluminum Block interior cut-away view showing water jacket around cylinder heads.
(different than GM design shown on right)

LSX Warhawk Block without cut-away. Normal view.

---
LS series replacement engine sleaves:
Darton Sleeves
manufactures performance "wet" sleeves which replace both the portion of the LS engine casting which holds the sleeve and LS engine sleeve itself. By removing the engine block's iron sleeve casing, the Darton sleeve provides the structure and is in direct contact with the cooling water (thus it's a wet sleeve). The MID (Modular Integrated Deck) design allows for the sleeves to "siamese" to create a solid deck of sleeve flanges, reinforcing the upper deck area. This sleeve enables one to go beyond the GM bore sizes up to 4.2 inches.
The M.I.D. sleeves are designed to work with
Cometic
gasket seals.
Darton manufactures both wet (all purpose) and dry sleeves (drag strip only).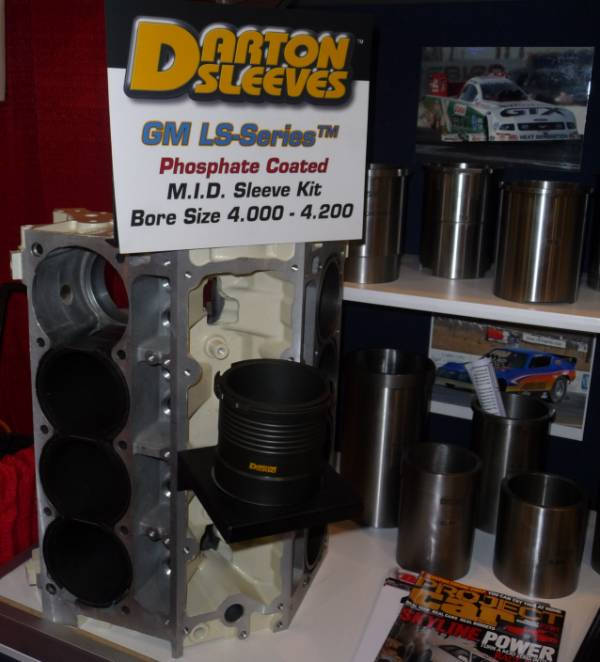 L.A.Sleeves for LSx series engine shown. Sleeves available for all makes and models.
Moly2000 centrifugally spun-cast ductile chrome-moly iron. Hard, dense and strong for race and performance applications. Sante Fe Springs CA (800)822-6005
---
LS series engine swaps:
When swaping an LS series engine into an earlier generation Camaro, consider the following:
The bell housing bolt patter on LS series engines is identical to the previous generations of small block chevrolet.

The crank shaft on the LS series engines is internally balanced and does not need external weights on the flywheel or flexplate.

The crank shaft flywheel/flexplate bolt pattern on the LS series engines:

1997-2009: 6 bolt
2009+ and all LSX: 8 bolt
LS9: 9 bolt

The crank shaft on the LS series engines does not extend aft as far as its older small block bretheren thus a crank shaft spacer/adapter plate is required if using a previous generation automatic transmission and torque converter.

Crankshaft spacer PN 12563532
Converter bolts (6) PN 11589040
Longer starter bolts PN 12563533.

On manual transmission vehicles, the throw out bearing mount must accomodate this difference. Use the LS series flywheel and use a clutch plate of matching diameter to match your transmission spline.

GM LSX crate motors come with an oil pan compatible with earlier generations of Camaros.
Use GM oil pan PN 19212593 for compatibility with 1955 to 1995 GM vehicles.


The Corvette and typical LS oil pan used for current GM vehicles will not fit in earlier vehicles.


Stainless mid and full length headers, cast iron exhaust manifolds and exhaust systems, oil pans, transmission cross members and engine mounts to swap LS engines in early model Camaros (1970-1981) are available from Holley/Hooker Headers

LSX swap kits for the first, second and third generation Camaros are available from Spohn or BRP. The kit includes engine mounts (to permit this swap with the stock cross member) and a rear transmission cross member and mount. Sphon also has weight reducing front K-members which mount the LS series engine in a third gen Camaro.

Front K-member and power rack and pinion steering

Wiring harness - Painless Wiring:

Harnesses available for retrofit of many of the LS series engines from various year models and EFI configurations.
---
Links:
Turnkey Engine Supply: LS1, LS2, LS6, LS7 crate motors - the large displacement small-block option.
CamaroTech.com:
Brewer's Restoration and Performance (BRP) - LS1,2,6,7 installation/conversion kits for '55-'88 Chevys.

First gen Camaro kit comes with front sub-frame, engine mounts, steering kit, transmission cross member, sway bar and shock relocation kit.
Second and third gen Camaro kit comes with engine mounts and transmission cross member. A compatible oil pan is also available if required.

LSX performance parts:
Camaro LS Engine swap kits:
CamaroTech Engine Links: