Third Gen Camaro Big Block Engine Swap:
Third Generation (1982-1992) Camaro engine swap
The theme here is big is better. Big blocks are available in 396, 427,
454
(7.4 L),
502
(crate motor) and even
572
(crate motor) cid.
---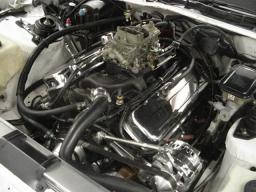 Also check out an article (if you saved it) on a big block engine swap into an F-Body (1982 to 1992) third gen Camaro performed for Hot Rod magazine for the October 1982 issue. This was what is required to make the swap work:
Exhaust: Hooker headers (2." dia). Tube 5 is a two piece design to aid installation. Stahl also makes header components which can be welded together for this swap.
Distributor: Required a dent in the firewall (hammering) to fit the distributor. Stock HEI does not fit. They used an Accel BEI-2.
Intake: LS6 low profile manifold, Holley carb and it fit under the stock hood.
Water pump: short Moroso pump, Uses big block crank pulley and balancer.
Oil pan: Used Chevell pan Chevy part number 3985999.
Engine mounts: Stock 305 mounts.
Transmission: TH400 with a fabricated a cross member and torque arm mount. Cross member bolted to stock location on body. Used front yoke Chevy part number 3930827 to attach to TH400. TH400 was of type with short (4") extension housing. TH400 total length = 28 5/8". Used stock auto shifter and speedo cable.
Cooling: See CamaroTech radiator/cooling information
Photos showing Chevy big block and passenger side exhaust routing.
---
CamaroTech Engine Links: