Chevrolet Engine Cylinder Heads:
The cylinder heads are an important component to consider when upgrading your engine performance. It delivers the fuel air mixture from the intake manifold, through the engine intake valves to the combustion chamber to burn. The cylinder head then vents the exhaust through the exhaust valve to the exhaust manifold/header. There are multiple features to consider when improving their efficiency:
The intake and exhaust runners: These can be port matched to the gasket so that there are no "steps" or edges to interrupt flow between the manifolds (both intake and exhaust) and the cylinder head. The intake and exhaust runners cal also be ported to make them larger to flow a greater volume. The more volume of fuel and air that can be delivered to the combustion chamber, the more power that can be developed at peak RPM. Smooth runners will have less turbulence and thus potentially flow more with less restriction.
Intake and exhaust valves: Cylinder heads can be replaced with units which have larger ports and valves. This will increase the flow capability of the head. Typically the intake valve is larger than the exhaust valve as this valve influences power more than the exhaust valve. Exhaust also tends to flow more easily as it is under greater pressure.
Materials: Most performance heads tend to be made of aluminum due to its reduced weight and better heat transfer capability.
Combustion chamber design and spark plug placement: The "hemi" is often considered the optimal design with the spark plug mounted in the middle. The hemispherical design also provides the optimum geometry for the smallest surface area without bends or edges. Bends and corners tend to be hot spots during fuel burn. The drawback is the larger volume which is mitigated by a piston design which is raised. Wedge shaped designs reduce volume for a higher compression ratio and simpler valve orientation and geometry.
Cylinder head design can be complex. Modern tools like Computational Fluid Dynamics (CFD) analysis software help engineer a design for maximum flow with a minimal amount of turbulence. These images show the design and CFD analysis of an Edelbrock cylinder head: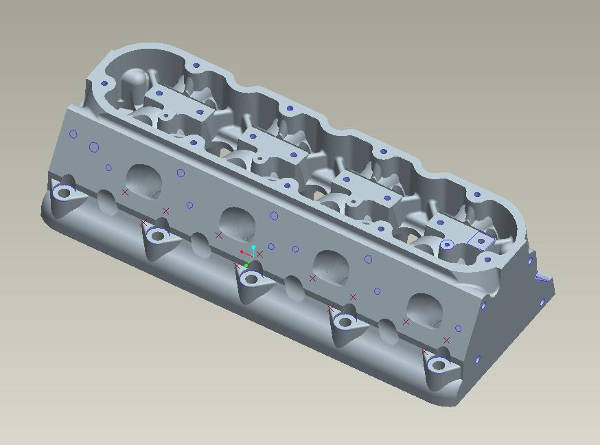 The engineering design of a cylinder head for an LS1 is shown here as a shaded CAD model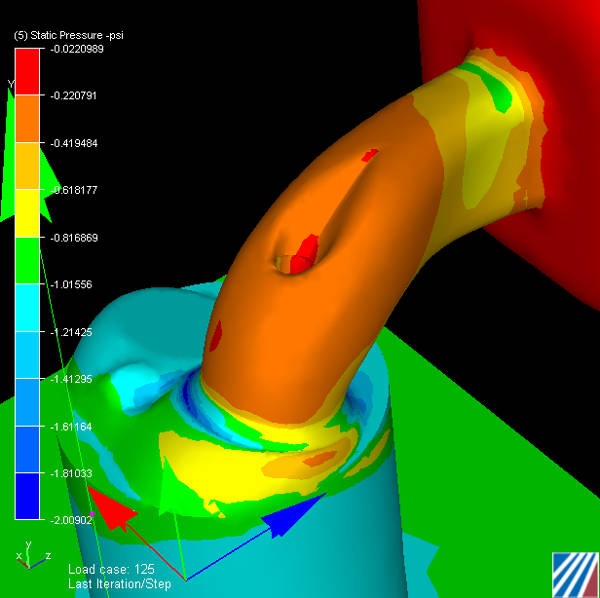 CFD pressure plot indicate flow pressures in the intake runner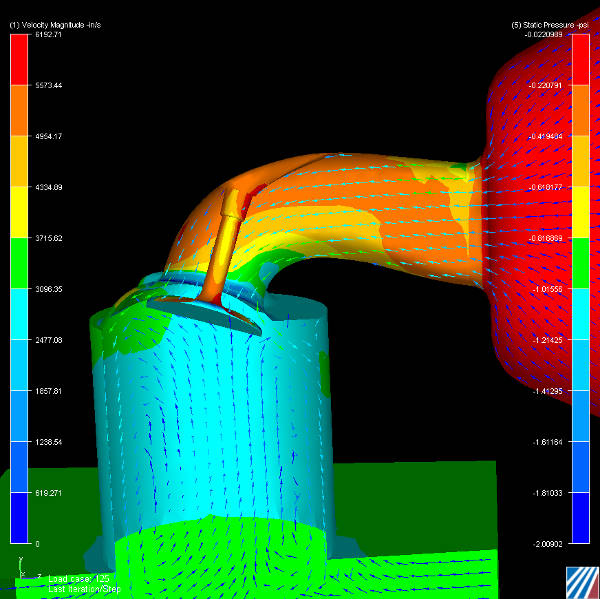 The arrows show intake flow velocities past the valve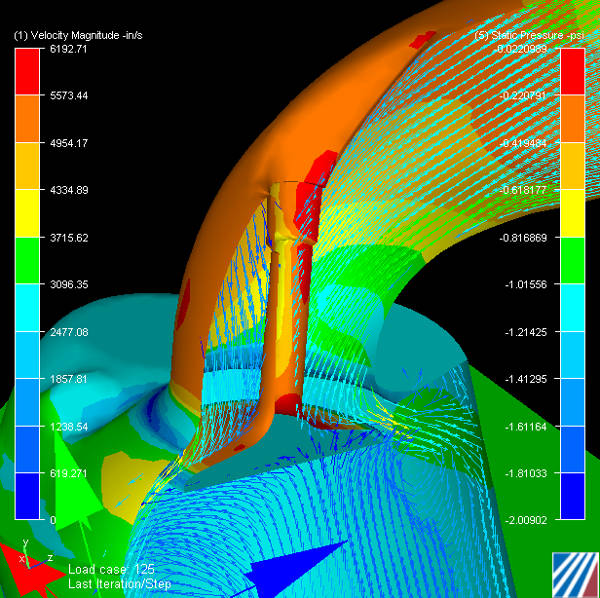 A view showing arrows indicating intake flow velocities in the intake runner going past the valve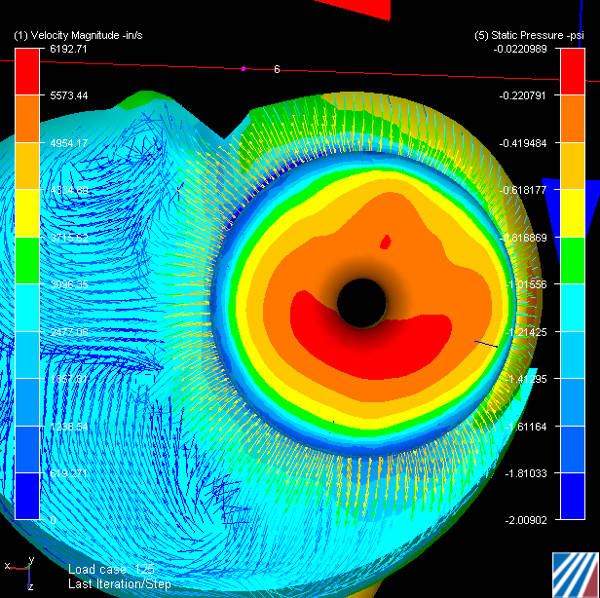 AirFlow Research Chevy racing heads for the small block, big block and LS series engines.
Cylinder Head Manufacturers: