Camaro Performance Brake Systems and Accessories:
Improvements in braking performance are achieved by increasing the stability of the braking apparatus and by increasing the torque applied by the braking system to effect the rotational velocity of the wheel.
Stability is improved by increasing the stiffness and rigidity of the system at all temperatures. Stiff and securely mounted calipers with low thermal distortion are required for good braking. Stability is also improved by balanced clamping pressure applied to the rotor and precise and controlled modulation of the brake actuation.
Camaro brake stability can be improved by:
upgrading to a performance brake system such as the Brembo "Firehawk" package which uses a caliper firmly mounted to the spindle. The rotors are "floating", unlike the stock GM system which uses floating calipers . The rotors do not allow rotational "floating". The stock GM caliper mounts allow for movement in too many directions.
using good brake lines which do not stretch or cause changes to the
brake actuation.
using good brake fluid which does not boil or allow the transformation to a vapor state at operational temperatures. Use DOT 4 or 5 brake fluids.
The brake torque is the brake force which can be applied to the turning tire. This is improved by increasing the rotor diameter and friction. Increasing the rotor diameter will increase the moment arm of the system. Increased clamping forces will also increase the amount of torque which can be applied. Improvements in friction forces are achieved by changes to the brake pads or changes in force applied by the caliper. Brake friction can seriously degrade with temperature. This requires brake pads which can continue to provide friction at high temperatures without fading (i.e. Carbon-Metallic pads) and large rotors with adequate venting. Brake pads can be selected for their initial "grab", coefficient of friction, wear rate, temperature performance and noise.
Camaro brake torque can be improved by:
using performance brake pads.
using larger rotors
using vented cross-drilled and/or slotted rotors to allow gases generated from the pad to escape rather than resist the pressure being applied. Slotted rotors will allow brake dust to escape so that it doesn't interfere with the friction of the contact surface.
calipers with many pistons to provide even force over a large brake pad surface.
Light weight is desired to lower the un-sprung weight of the suspension. This improves handling. (See Camarotech suspension and wheels)
---
Performance brake installations:
A brake package must be chosen which fits without interference within the wheel. Large rotors require mounting calipers further from the center and thus require wheels of a larger diameter to clear the caliper. i.e. The Brembo "Firehawk" system requires the use of 17 inch diameter wheels. Stock GM 16 inch wheels will not fit. See the Baer "Use of fitment templates". There is a fitment template (PDF) for each Baer brake product when you search by your make and model.
Vendors of race performance brake systems for the Camaro:
Brembo: performance brake parts and kits

Brembo "Firehawk" brake installation for Third gen Camaros - front brakes

See our complete article on the "Firehawk" installation.

Brembo currently offers big brake kits for the Gen4 (4 piston caliper kits) and Gen5 (4 and 6 piston caliper kits) Camaro only.

Wilwood Disc brakes - master cylinders, pads, rotors, hats and calipers.
Camaros: [1967-1969], [1970-1978], [1979-1981], [1982-1987], [1988-1992], [1993-1997], [2010-2011]
Baer: Performance rotors, calipers and brake assembly kits
Note Baer T4 four piston calipers use stock GM size pads and GM size caliper outer mold line. Available for Camaro Gen 1-4.
Baer "Extreme Plus" and "Pro Plus" kits (caliper, hub, rotor, lines, etc) are available for Camaro gen 1-5.
SICOM: Performance racing carbon rotors, calipers (with ceramic pistons) and brake assembly kits.
Sicom brake kits are available for gen 5 Camaro.
StopTech - Gen IV Camaro only
Fitment template
Rotora: Steel and carbon-ceramic rotors. Camaro kits: Gen4 1998-2002, Gen5 2010


GM 1LE performance package: Available in 1988-1992 with PBR aluminum calipers.
Note that conversion of rear brakes from drum to disk may require the use of a new proportioning valve.
---
Brake Rotor Tech
The rotors need to dissipate a lot of heat: Use a thick vented rotor. Thick so it can hold a lot of heat and vented to dissipate the heat to the air.
Brake pads will generate gasses: Use a cross drilled rotor or grooved rotor so gasses can escape from between the pad and disk.
Brake pads will generate dust: Use a rotor with directional angled dust grooves which will shed the dust radially to the outer rim of the rotor as the rotor turns.
Note: If gasses generated by the heated pads and brake dust are allowed to collect between the pad and rotor, the braking effectiveness is diminished.
Rotor design examples and cross sectional cuts to reveal the rotor interior cooling passage design:
| | |
| --- | --- |
| Curved Vanes | |
| Pillar Vanes | |
| Straight Vanes | |
| Cross Drilled | |
| Slotted / Dust Grooved | |

Rotor photos above taken at the Brembo display at SEMA 2007.
Brake Materials:
| | |
| --- | --- |
| Carbon-Carbon rotor: | |
---
Baer Inc.
3108 W Thomas Road
Suite 1201
Phoenix AZ 85017
(602)233-1411
Camaro Front Brakes:

| Year | Description | Part # | Fit | Rotor Diameter | # Pistons / Caliper |
| --- | --- | --- | --- | --- | --- |
| '67 - '69 | Street | 4301008 | Agt | 11.0" | 2-PDC |
| | Track | 4301035 | CgTX | 13.0" | 2-PDC |
| | Extreme | 4301083 | DgTX | 14.0" | 6-Fixed |
| '70 - '81 | Sport | 4301090 | Agm | 12.0" | 2-PDC |
| | Track | 4301041 | BgmX | 13.0" | 2-PDC |
| | Extreme | 4301091 | DmX | 14.0" | 6-Fixed |
| '82 - '92 | Sport | 4301088CORE | AJTX | 12.0" | 2-PDC |
| | Track | 4301039CORE | BJTX | 13.0" | 2-PDC |
| | Extreme | 4301089CORE | DJTX | 14.0" | 6-Fixed |
| '93 - '97 | Sport | 4301009 | B | 12.0" | 2-PDC |
| | GT-Plus | 4301001 | C | 13.0" | 2-PDC |
| | Extreme | 4301011 | D | 14.0" | 6-Fixed |

* '67 - '69 for 2pc spindle. Also available for OEM disc spindles.
* '68 - '81 available for a dropped spindle as well as OEM.

Baer also has rear axle brake kits.


Shown here: Baer Street-Strip 4+, Track 4, Pro+ and Extreme+

StopTech
Compton, CA 90220
(310)933-1109



MGP caliper covers

Powder coated aluminum. New carbon finish available.
Russell Performance Products
(Division of Edelbrock)

Russell Brake Lines
2301 Dominguez Way
Torrance, CA 90501
(310)781-2222

Stainless Braided Camaro Brake Lines. Part #'s:

#692040: Camaro/Firebird 1982 to 1983 2 Front/Disc and one rear
#692050: Camaro/Firebird 1984 to 1992 2 Front/Disc and one rear

These redesigned, stainless steel braid with Teflon inner liner brake lines, are DOT approved and are immensely improved over the previous generation of Russell brake lines. No longer are the end fittings of a two piece design which possessed a radical decrease in cross sectional area introducing a stress concentration which could lead to failure. These new brake lines maintain rigidity and material at the perimeter eliminating the stress concentration thus creating a newer, safer and more durable brake line.

Russell parts required to assemble your own rear brake line:

#656012: Endura No. 3 9" straight stainless braided line
#656022: Endura No. 3 12" straight stainless braided line
#656302: Endura No. 3 13" straight stainless braided line
#656032: Endura No. 3 15" straight stainless braided line
#656242: Endura No. 3 16" straight stainless braided line
#656042: Endura No. 3 18" straight stainless braided line
#656222: Endura No. 3 20" straight stainless braided line
#640471: 10mm Banjo (3/8") to straight -3 fitting
#640511: 10mm Banjo (3/8") to 35 degree bend -3 fitting
#641291: -3 3/8"-24 female with C-clip provision

See the Russell catalog for a full listing of brake lines and fittings.

Hurst: line lock

Hurst roll control unit for gen 5 Camaro shown. Engages front brakes independently for burn out and tire warm-up. ABS/Traction control compatible.
---
SICOM
carbon-ceramic brake rotors, ceramic pistons and nickel coated aluminum calipers for the gen 5 Camaro
---
DRP Performance Products
: Wheel bearing spacer and tools
---
Links: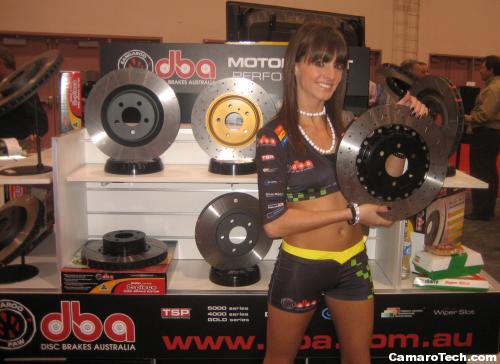 Brakes:
Brake Pads:
Brake lines:
Brake rotors:

Power Stop Rotors: Cross drilled, slotted and cross slotted
Baer rotors (and brake kits):

Proportioning Valves:
Brake fluid:
Brake Tools:
SPD: Skulte Performance Designs: Brake Duct Cooling Kits - front brake dust shield/duct kit
CNC Brakes: Brake/clutch/gas pedal assemblies, master cylinders, staging brakes, calipers, ...
MP brakes: GM rear brake kits
ATS: American Touring Specialties: First gen Camaro aluminum front spindles and hubs.
AP Racing: race brakes, rotors, pads, fluid
TSM: Streetrod Manufacturing - manufactures rear disc brake conversions, drive shaft parking brakes, ...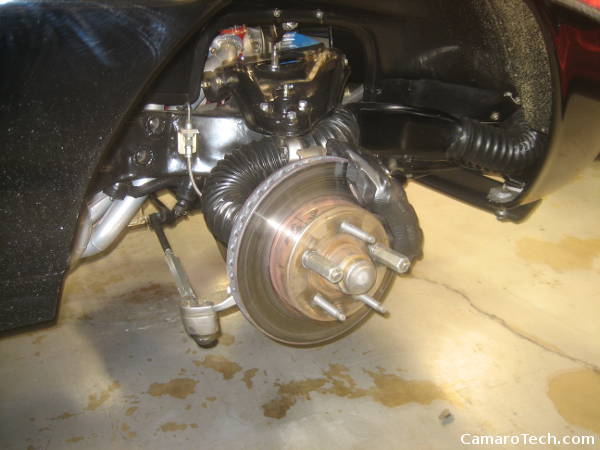 Ducting to provide a cool air stream to the brake rotors