Camaro Performance Racing Transmissions (Manual and Automatic):
Presented below are many of the manual and automatic transmission options available for the third gen Camaro as well as many of the components required to complete the drive-train. Engines typically produce maximum horsepower and torque in a very narrow RPM range. In order to maintain max horsepower and torque, the transmission provides as many gears required to accelerate through the speed ranges, maintaining peak engine performance. The broader the speed range over which performance is required, the more gears will be desired. Most of the equipment shown here has been engineered to accommodate high horsepower engines for use on the street, drag strip or track.
Also see the CamaroTech.com clutches and bellhousings and the CamaroTech.com Richmond 6sp transmission install in a 1982 Camaro.
Transmissions:
Richmond Gear
P.O.Box 238
Old Norris Road
Liberty, SC 29657
(804)843-9231

Richmond T10 4sp


Richmond 5sp


Richmond 6sp

Tremec Transmission

Five and Six speed for use with all generations of Camaros and all Chevy engines


Rockland Standard Gear: Custom configure engine bolt pattern, spline, shifter position, electronic controls, torque capacity etc for your gen Camaro and engine
General Motors performance TR6060 M10
PN 92246731

Six speed automatic transmission for use with LS engines

Weight: 146 lbs

Max torque: 420 lb-ft

Input: 26 spline

PA: Performance Automatic

GM 4L60E (600 hp) and 4L80E (700hp) automatic transmissions:
Built with Raybestos clutches and bands, performance valve bodies.
Smart Shift electronic controllers: complete tune-ability (timer delay, torque converter lockup control, overdrive control, etc
Accessories:
Energy Suspension
San Clemente CA


Polyurethane transmission mount and bushings to reduce transmission and engine unit movement under torque load.
Available in either red or black, automatic and manual transmissions.
Hurst shifters:
Paddle shift kit

Camaro gen5 paddle shift kit for automatic transmission. Replaces "tapshift" buttons. No steering wheel removal required.
Master Shift
Fallbrook CA
1-760-723-2722



Paddle shift of automatic, manual and sequential transmissions. Includes shifter, driver display, clutch position sensor, actuators. Paddle sets the next shift command actuated by the clutch.
---
Tranny Swap:
Early TH350 swapped into a Third Gen
Torque arm mount: The TH350 lacks the mount points for the torque arm. Use one of the following:
Detent cable: The TH350 requires a detent kick-down cable: B&M adjustable cable PN30287
Vacuum Modulator: The TH350 requires a vacuum modulator: B&M vacuum modulator PN20234
Drive shaft: The installation of the TH350 requires a longer drive-shaft. This will have to be custom made at a drive-shaft shop.
Speedometer connection:

Electronic speedometers: A conversion unit is required to read an electronic signal from the mechanical TH350 speedo output. Use Stealth Conversions PN4PRS
---
Links:
Manual Transmissions:
Transmission Shifters:
Automatic Transmissions: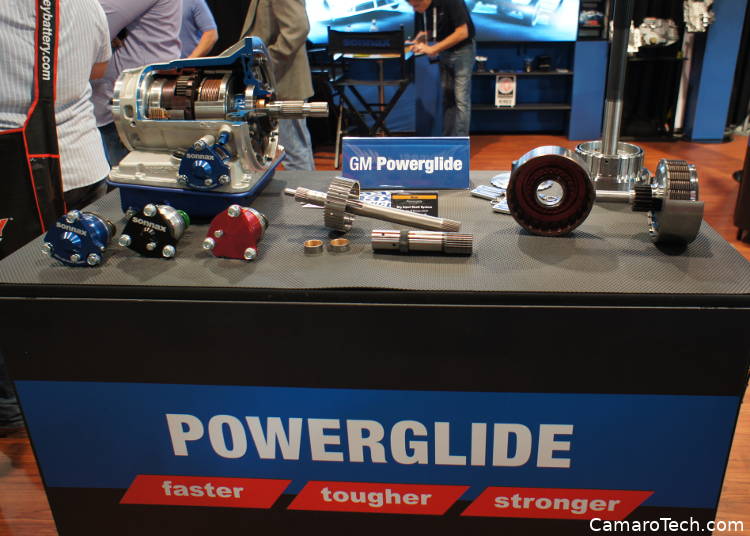 Sonnax transmission components for the Powerglide, 4L60/E automatic transmissions
---
Accessories and Components:
Speedometer Adapters:
Automatic Transmission Fluid:
Other:
Installations: