Camaro Differentials and Driveline:
Installations, information and links to differential and driveline components.
Rear diff and suspension geometry:
| Camaro | Differential | Suspension |
| --- | --- | --- |
| Gen 1: | solid axle | Leaf spring |
| Gen 2: | solid axle | Leaf spring |
| Gen 3: | solid axle | coil spring |
| Gen 4: | solid axle | coil spring |
| Gen 5: | independent axle | coil spring |
The "Third Generation Camaros" require mount points on the differential for the torque arm, trailing arm links, spring pads, panhard rod and shocks. Many aftermarket options exist with all of the appropriate mount points.
The most common GM unit for the 1982 to 1992 Camaro is the Saginaw style 10 bolt Chevy differential.
1982 to 1984: 7.5 inch ring gear, 26 spline axle
1985 to 1989: 7.625 inch ring gear, 26 spline axle
1990 to 1992: 7.625 inch ring gear, 28 spline axle
PN 26010268 (drum brakes)
PN 26028692 (disk brakes)
The "Third Generation Camaros" were available with both rear drum brakes and rear disk brakes. The hand brake is slightly different for each. The throw (distance of pull) is greater for the disk brake. This was achieved by utilizing a different hole position where the end of the cable connects.
Any change from a drum brake system to a disk brake system will require a change to a disk brake based master cylinder and proportioning valve as well as the aforementioned handbrake lever.
Dana Automotive
P.O.Box 1000
Toledo Ohio 43697
(419)535-4500

GM Performance Parts Catalog # 14044853:

Also requires GM part #:

18014954 Disk Caliper (2)
14065768 Hand brake lever
10046472 lever
17980326 Hose
14073080 Cable RH
14077717 Cable LH
18014287 Master Cylinder
25517739 Proportioning valve
17980325 Brake Hose
17980428 Hose
10036870 Bracket
25527167 Retainer





Third Generation Camaro differential swap:

Dana 44, Stainless cover and Herb Adams rear sway bar.

Dana 44 Axle assemblies (GM part numbers):

3.31 ratio: GM# 14044853
3.92 ratio: GM# 14044854
4.09 ratio: GM# 14044855

Dana Spicer 5-436x and 2-94-28x U joint kit included.
Ford 9 inch

Moser 9 inch
(Gen 3 and 4)



Ford 9 inch swap into a Third Generation Chevy Camaro:
Kits available to bolt right in with spring pads, torque arm mount as well as control arms and panhard rod.
Heidts:

Third gen rear Ford 9" diff IRS kits.


Third Gen '82-'92 F-Body IRS rear differential kit. Rear kit is bolt and weld-in IRS with a 65" standard width and 63" narrowed track width available. Also available in standard and high (800) horsepower configurations. Uses a custom Ford 9" differential. Unit shown is for a third gen Camaro. Units available for 1st, 2nd, 3rd and 4th gen Camaros.


Heidts Third gen rear Ford 9" diff IRS kit
Ligenfelter
Gen 5 Camaro: 9 inch independent rear differential

This unit handles larger gears and thus has capacity to support more horsepower and torque than the stock unit.
---
Dual Traction Positrac Units:
---
Differential Covers:
---
Drive Shafts:
QA1
Carbon fiber driveshafts

Carbon fiber driveshafts good to 1500 hp
---
Driveline Components:
Sonnax
Yokes and driveshaft components

Yokes, flanges, shafts
---
Full Floating Axle Conversion:
Performance brakes manufacturer Baer supplies a full floating axle "Baer Tracker" conversion kit for Ford 9" and Dana 10"/12" units to provide superior capability to handle lateral forces. Traditional flanged axle designs employ a single axle bearing to support both the weight of the vehicle and lateral forces. During cornering, the flange is levered by lateral forces causing deflection and bending. This often causes the brake rotor to press against the brake pad and a return push of brake fluid.
A full floating axle conversion allows the axle to only provide drive power to the wheels. The support of the vehicle weight and lateral forces are handled by the "Baer Tracker" conversion unit's strudy steel spindle unit. It will improve longevity of the bearings and improve braking predictability.
Also see our brakes page for more info.
---
Torque Arm:
The third gen Camaro uses a torque arm to position, stabilize and control differential twist under acceleration and braking. This arm is attached at one end to the differential housing by two large bolts and at the front-end to a mount on the trasnmission tail housing. The front-end mount is a metal mount which clamps upon a rubber bushing which encapsulates the torque arm. There are three styles for the third gen. Energy Suspension sells a durable polyurethane replacement:
1982-1983: 3.1110
1984-1992: 3.1111 (lips facing away from driveshaft)
1984-1992: 3.1112 (lips facing towards driveshaft)
Given that the OEM rubber bushing dissolved from the transmission oil and heat, the polyurethane bushing seemed like a worthy upgrade. It is noeworthy that this bushing required trimming to make it fit the GM torque arm.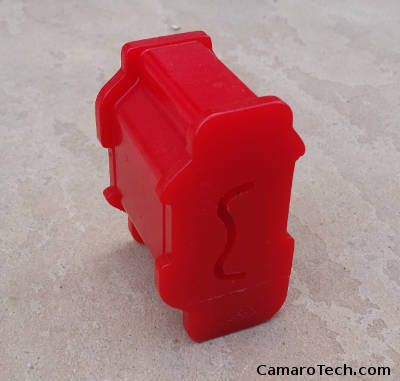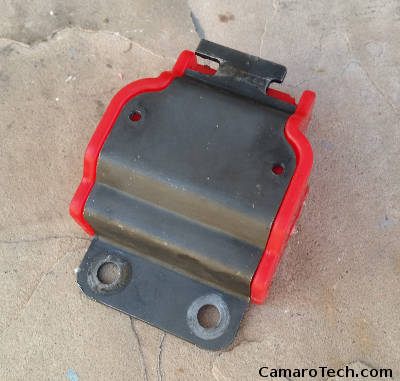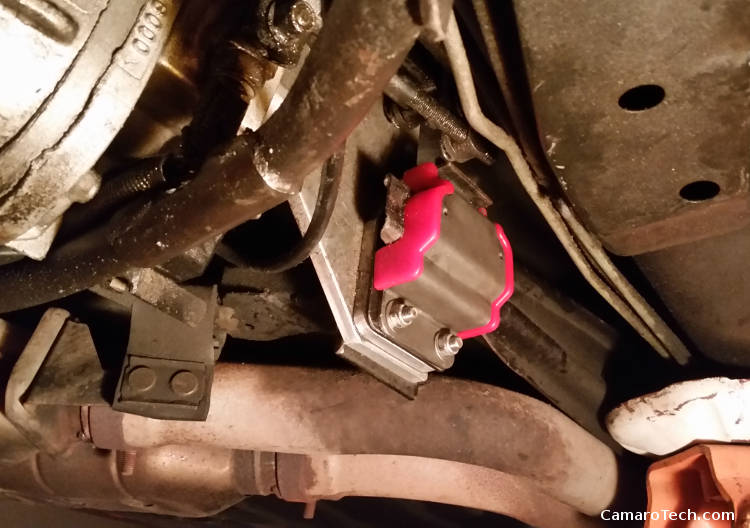 Shown mounted to a Richmond 6 speed transmission using an OEM GM torque arm mount on a 1982 Camaro.
Energy Suspension: 1131 Via Callejon, San Clemente CA 92673
---
Links:
Third gen ready rear axles:
Strange Engineering: Complete assemblies, Axles and components
8300 North Austin Ave, Morton Grove IL 60053 (847)663-1701
Dutchman Motorsports: Assemblies and components. Quick change and independent axles as well.
NationWideParts.com: Chevy 12 bolt assemblies for 3rd gen F-Body
Mark Williams Enterprises: racing axles and assemblies.
Kugel Komponents: Custom independent rear differential assemblies. Stainless steel components.
Richmond Gear: Ring and pinion sets. Also lightened gears.
Quick Change Differentials:

Winters - quick change and 9" diffs
Gearhead's Quickchange Exchange: 11958 Davisburg Rd. Davisburg, MI. 48350 (248)634-5107

Posi units:
Rear End Covers:

Kentrol Inc: Jeep uses the Dana 44 thus differential covers for the Jeep are good for other Dana 44s.

Driveshafts:


Yukon 12 bolt positraction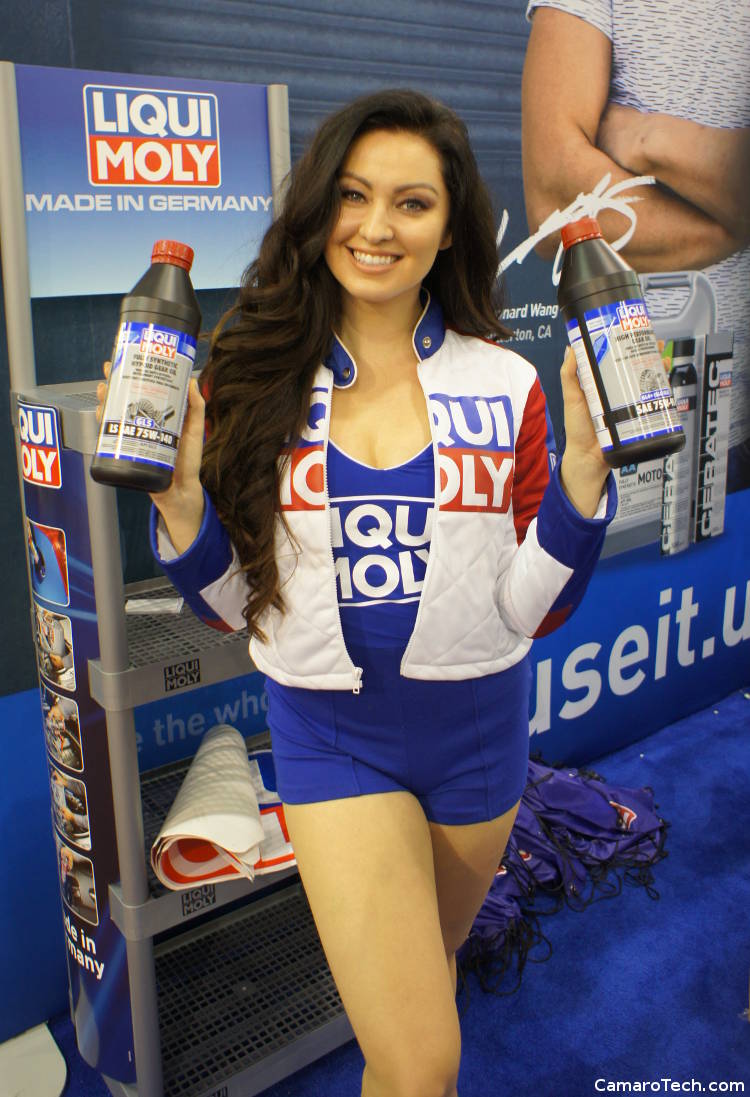 And of course don't forget to fill the differential with gear oil. Shown here are two viscosities of
Liqui Moly
synthetic gear oil.